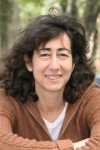 An award-winning writer on waste and water, Royte gets to the heart — always in an entertaining manner — of some of the more troubling issues facing our increasingly consumptive global society.
Royte shows readers and audiences how we can all make a difference by understanding and acknowledging both the upstream and downstream impacts of our consumption, and then taking steps to shrink our environmental footprints — as individuals, community members, and voters.  As we continue to exploit the planet's precious natural resources, Royte cautions that positive, regenerative change can only be possible if we honestly reassess our relationships with waste, water and our own daily routines.
Program Descriptions
Bottlemania: Big Business, Local Springs and the Battle over America's Drinking Water
In Bottlemania — one of Entertainment Weekly, Plenty, Seed and Time Out Chicago's Top Nonfiction Books of 2008 — Elizabeth Royte ventures to Fryeburg, Maine, a source of Poland Spring water, to explore the roots of our fascination with bottled water and to examine its modern-day frictions, now threatening to spill over into cultural warfare.
Moving beyond the environmental and social consequences of making, filling, transporting and landfilling those billions of bottles, Royte parses the quality of both bottled and tap water (you may be surprised at what she found). And while more than 90 U.S. colleges have restricted or banned bottled-water sales, Royte favors a more holistic, education-based approach that has the promise to ripple far more widely through communities seeking sustainability.
Ultimately, Royte's lecture makes a case for better protection of public water supplies, for improving our water infrastructure, and–in a world that's hotter, more crowded and more polluted–for better allocating and sharing the precious freshwater that remains.
Garbage Land: On the Secret Trail of Trash
Out of sight, out of mind…
Into our trash cans go dead batteries, dirty diapers, bygone burritos, broken toys, tattered socks, eight-track cassettes, scratched CDs, banana peels … But where do these things go next? In a country that consumes and then casts off more and more, what actually happens to the things we throw away?
In Garbage Land, one of The New York Times Notable Books of the Year for 2005, acclaimed science writer Elizabeth Royte leads us on the wild adventure that begins once our trash hits the bottom of the can. Along the way, we meet an odor chemist who explains why trash smells so bad; garbage fairies and recycling gurus; neighbors of massive waste dumps; CEOs making fortunes by encouraging waste or encouraging recycling–often both at the same time; scientists trying to revive our most polluted places; fertilizer fanatics and adventurers who kayak among sewage; paper people, steel people, aluminum people, plastic people, and even a guy who swears by recycling human waste.
Royte takes us on a bizarre cultural tour through slime, stench, and heat-in other words, through the back end of our ever-more supersized lifestyles. By showing us what really happens to the things we've "disposed of," Royte reminds us that our decisions about consumption and waste have a very real impact-and that unless we undertake radical change, the garbage we create will always be with us: in the air we breathe, the water we drink, and the food we consume.
Bio
Elizabeth Royte's writing on science and the environment has appeared in Harper's, The New Yorker, National Geographic, Outside, The New York Times Magazine, and other national publications.  A former Alicia Patterson Foundation fellow and recipient of Bard College's John Dewey Award for Distinguished Public Service, Royte is a frequent contributor to the New York Times Book Review, a contributing editor for OnEarth, where she writes the blog The Royte Stuff.  A correspondent for Outside magazine, and a contributing editor for the Food and Environment Reporting Network.  (www.thefern.org), her work is also included in The Best American Science Writing 2004 and 2009.  Royte's first book, The Tapir's Morning Bath: Solving the Mysteries of the Tropical Rain Forest, was a New York Times Notable Book of the Year for 2001.