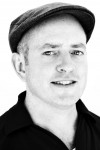 Tom Philpott writes the "Food for Thought" blog at Mother Jones and is a former columnist and editor at Grist.org, where he wrote the "Victual Reality" column, the only regular food-politics column in the national media at the time.  He is also a co-founder and core-group member at Maverick Farms, a center for sustainable-food education in Valle Crucis, NC, which has been featured in Gourmet and The New York Times Magazine.  In September '08, Food & Wine named Philpott one of "ten innovators" who will "continue to shape the culinary consciousness of our country for the next 30 years."
Program Description
Back to the Future of Agriculture:
Steps Toward a Robust Food-Economy and a Sustainable Society
In his lectures, Philpott addresses the core economic, political and agricultural issues affecting the current state of food quality, availability and safety in America and throughout the world.  He also makes the case for sustainable methods of farming, processing and manufacturing by drawing on his own experience at Maverick Farms, and presenting examples of individuals, communities and governments who have demonstrated that sustainability can ultimately lead to healthy, cost-effective and profitable solutions.
Philpott details the major environmental and economic effects of industrial agriculture — its destruction of soil, its mammoth effect on climate change, and the way it creates dead zones in coastal ocean areas across the globe. In all of these examples, the way we grow food now threatens our capacity to grow food in the future.  The whole system depends on farmers being able to crank out huge amounts of crops that can be transformed into livestock feed to create cheap meat; into sweeteners for cheap sodas; and into additives for all the convenience fare we find at the supermarket and in the fast-food chains. In this system, farmers don't grow food for people to eat, they grow industrial inputs that corporations transform into food.
He also argues that by eating and drinking, we literally embody the land by ingesting what grows from it. Since this relationship is so intimate, it isn't surprising that the health of landscapes and the health of people are directly linked — landscapes such as the vast fields devoted to one crop, dependent on artificial fertilizers and a variety of poisons. Almost completely depopulated and devoid of diversity — indeed, at the whim of entire industries that exist to eradicate their biodiversity — these brutalized landscapes, it can be argued, are brutalizing our bodies in turn.  Healthy, beautiful agricultural landscapes tend to engender healthy, beautiful people. Unhealthy, ugly agricultural landscapes, by contrast, tend to create disease and dysfunction.
So, if food, our daily, inevitable link to the land, can be used to extract wealth from communities and enfeeble bodies – which our giant food-processing and agribusiness companies have certainly demonstrated – can't it also be used to build wealth and health within communities?
Philpott answers this question and tackles many of the other crises and dilemmas we currently face. The challenge, as he sees it, is to move away from a food-production system designed to deliver minimal nutrition, as cheaply as possible, to a vast low-wage workforce, and to move toward a future where we're all invested in contributing positively to both the physical and economic health of our country and the rest of the world.
Bio

Before moving to the farm in 2004, Philpott worked as a financial journalist in Mexico City and New York City, most recently holding the title of equity research editor for Reuters, where he wrote daily dispatches on the stock market. His work on food politics has appeared in Gastronomica, The Guardian, Mother Earth News, New Farm, and Sojourners.  Philpott serves of the board of directors of the Boston-based Chef's Collaborative, a nationwide group that seeks to push the restaurant business in more sustainable directions; and on the board of advisers at the Austin, Texas-based Sustainable Food Center.