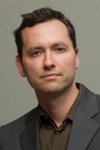 An associate professor of Economics and Director of the Center of Evaluation for Global Action at the University of California, Berkeley, Edward Miguel, along with Raymond Fisman, takes readers into the secretive, chaotic, and brutal worlds inhabited by lawless and violent thugs in their acclaimed book, Economic Gangsters: Corruption Violence and the Poverty of Nations.
In Economic Gangsters, Miguel and Fisman use economics to get inside the heads of these gangsters, and propose solutions that can make a difference to the world's poor, including cash infusions to defuse violence in times of drought and steering the World Bank away from aid programs most susceptible to corruption.
These two sleuthing economists follow the foreign aid money trail into the grasping hands of corrupt governments and shady underworld characters around the globe, and invite audiences to witness ingenious black marketeers game the international system; follow the steep rise and fall of stock prices of companies with unseemly connections to Indonesia's former dictator; see what rainfall has to do with witch killings in Tanzania…and much more.
Program Descriptions
Is It Africa's Turn?:
Progress in the world's poorest region
Miguel, whose main research focus is African economic development, has been teaching a course on this subject for 9 years, and has conducted field work in Kenya, Sierra Leone, Tanzania, and India.  In his lectures, Miguel draws on his considerable depth of knowledge and on-the-ground experience to detail the ups and downs in Africa since independence.  In particular, he puts in context recent economic and political progress, which have raised hopes for the first time in decades. How long will this up-tick last, how will it affect/be affected by the global economy, and what part will  American, Chinese and Indian interests play in the outcome — especially in the face of the current economic crisis? Miguel addresses all of these crucial questions and more, as he pulls back the curtain on this least understood region.
Bio
Professor Miguel earned S.B. degrees in both Economics and Mathematics from MIT, and received a Ph.D. in Economics from Harvard University, where he was a National Science Foundation Fellow. Miguel is a Faculty Research Associate of the National Bureau of Economic Research, Associate Editor of the Quarterly Journal of Economics, recipient of the 2005 Alfred P. Sloan Fellowship, and winner of the 2005 Kenneth J. Arrow Prize awarded annually by the International Health Economics Association for the Best Paper in Health Economics.