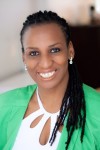 Dr. Janice Johnson Dias, co-creator of the GrassROOTS Community Foundation (GCF), a health advocacy organization that develops, scales, and funds community health initiatives for impoverished women and girls, has been described as a force of nature. Janice is a scholar-activist whose life's work is developing research-informed, innovative solutions to the challenges facing the urban poor, particularly underserved black mothers and their children.  She thinks about, researches, devises and enacts strategies for using urban spaces to foster growth and development rather than stagnation and decline.
She's taken her academic study of the social, economic and political factors that shape women's lives and applied it on-the-ground.  With business partner Tarik "Black Thought" Trotter of the Grammy-award winning group The Roots and "Late Night with Jimmy Fallon" and a cadre of social scientists, community organizers, and artists, GrassROOTS has garnered the attention of the White House and funding support from the Annie E. Casey Foundation, Robert Wood Johnson Foundation, Barnabas Health System, The Health Care Foundation of New Jersey, and GlaxoSmithKline for their community health programs in Philadelphia, Greensboro, and Newark, serving over 300 people. In fact, Janice was among a select group of community leaders invited to First Lady Michelle Obama's re-launch of her "Let's Move" initiative.
In her talks, Janice uses humor to raise awareness and demonstrate the interconnection between poverty and health and its impact on women and girls.   Drawing on her multiple published peer-reviewed academic papers on health, women and poverty, Janice delivers academic-driven data in a relatable, accessible way, engaging audiences while informing also them. Janice has spoken to a wide range of organizations, including many colleges and health institutions across the United States, New York Academy of Health, New York Department Health and Hygiene, and continues to speak about the need to invest in the health of women and girls.
A former U.S. Army Reservist with a doctorate in sociology from Temple University, Janice is currently a professor of sociology at the City of University of New York's John Jay
College of Criminal Justice.  She is planning to extend her work in her forthcoming book: In the Best Interest of the Mother: Divorcing Black Children from Black Mothers.  Honored by Zeta Phi Beta as one of their "Women of the Year," Janice's justice work and community research story has been spotlighted by the Robert Wood Johnson Foundation and other civic organizations, The Philadelphia Inquirer, CBS News.