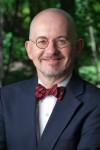 An acclaimed and prolific science journalist, Dan Hurley's latest book Smarter: The New Science of Building Brain Power, is a fascinatingly deep dive into the field of intelligence research, revealing what scientists have called a revolution in human intellectual abilities. Shattering decades of dogma, researchers began publishing studies in 2008 showing that "fluid intelligence"—the ability to learn, solve novel problems, and get to the heart of things—can be increased through training. Hurley endeavored to find out if this was indeed possible, and came away with some truly mind-blowing results.
With rave reviews in the Washington Post, the Guardian (UK), Scientific American, Nature, the South China Morning Post (Hong Kong), and more, Smarter gives readers a glimpse at what's possible when we really put our mind to something.
Hurley has lectured on building brain power around the world, including at London's prestigious Royal Society for the Arts.  His 2012 cover story in The New York Times Magazine, "Can You Make Yourself Smarter?" was among the magazine's top-10 most-read articles of the year, and his latest feature for the magazine, "Jumper Cables for the Mind," described his experience with transcranial direct-current stimulation (also known as "getting his brain zapped") to increase intelligence. Hurley has been interviewed for Smarter on MSNBC, on the PBS documentary feature, "Smarter Brains," on WNYC in New York, WHYY in Philadelphia, and on the BBC in England.  The book has been excerpted in The Atlantic, Salon and the Daily Beast.
Program Description
Get Smarter: How to Build Your Brain Power
Can you make yourself, your employees, your kids, and your parents smarter? For over a century, IQ scores were viewed by scientists as placing an upper limit on what a person could ever achieve: a cognitive glass ceiling, a number tattooed on the soul. Not anymore. The science now speaks for itself, and in his lectures, Dan Hurley takes audiences on a journey into our brains and describes the discoveries he made about not only his own, but all of human intelligence during his time researching and writing the Smarter.
Hurley interviewed over 200 leading scientists from around the world and road-tested on himself the six methods proved to increase cognitive performance: computerized brain-training programs, mindfulness meditation, learning to play a musical instrument, intense physical exercise, nicotine patches and transcranial direct-current stimulation. After three months of training, his fluid intelligence increased 16%.
Using eye-opening and dramatic video footage from scientific studies and his own absurd experience as a human guinea pig, Hurley's talks are startling, plain-spoken, funny, and full of practical information that audiences can immediately put to use on the job and in their homes. Dan will even demonstrate some of the best-proved techniques for audience members to learn and practice right in their seats.
Bio
Hurley has published hundreds of popular science articles in publications ranging from Discover magazine to Wired, the Washington Post, Psychology Today and Men's Health. He has appeared on the "Today" show, "Dr. Oz," the CBS Evening News, CNN, National Public Radio, and ABC "Nightline." But, he also has a (semi) secret identity.  Beginning on the streets of Chicago in 1983, with a manual typewriter and a little sign that said, "60-Second Novels, Written While You Wait," Hurley wrote instant stories for passersby. Started as an exercise in creativity, the stories soon evolved into a kind of mini-biography. His book The 60-Second Novelist: What 22,613 People Taught Me About Life is possibly the best cross-section of life stories ever collected in one place. He has since written 60-Second Novels for Brad Pitt, Matt Lauer, Michael Bloomberg, Whoopi Goldberg, and about 50,000 people you've never heard of. He has delivered shows both on stage and in walk-around mode at special events for corporate and private markets around the world.