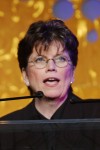 Joan M. Garry, former Executive Director of GLAAD (Gay & Lesbian Alliance Against Defamation), is recognized as one of the most vocal, passionate and effective civil rights leaders in America.
Garry began her professional career as part of the management team that launched MTV in 1981 and it is that experience that shaped her view that the media profoundly influence the attitudes and opinions of people on nearly every issue.  With her 1997 appointment as executive director of GLAAD, a position she held for eight years, Joan realized she had connected her professional experience with her powerful voice.
Whether it was debating Jerry Falwell and Bill O'Reilly, or taking on The New York Times and persuading the Times to change its policy to include gay and lesbian couples on its wedding pages, Garry has been at the forefront of issues that mean something to her family and to countless other families across America.  This was never more evident than during the transformational election of 2008, when Garry was the Co-chair of the National LGBT Finance Committee for Obama for America, leading a committee of 75 fundraisers nationwide to engage and mobilize the LGBT community to champion the candidacy of President-elect Obama.
Currently a featured blogger at The Huffington Post, Garry is working to help Americans connect the front page to the world in their own back yards. She offers commentary on issues of relevance to the gay community as a columnist with The Washington Blade, and her personal essays have been published in The Newark Star Ledger, The New York Times and elsewhere.
Program Descriptions
The Civil Rights Issue of Our Time:  LGBT Equality
As one of America's most prominent gay rights leaders, Garry offers thoughts on the current state of the movement,  examines it in terms of historical context and considers its trajectory over the next 5-10 years.  She addresses the opportunities and challenges facing the next generation of leadership, and proposes (and answers) difficult questions about the most effective ways to achieve success.
Goal-Oriented, Team-Driven Leadership

After a decade at the helm of one of the most visible gay rights organizations in America, Garry's perspectives on leadership are authentic and unique.  From debating Jerry Falwell to persuading the New York Times to include gay and lesbian couples on its wedding pages, Garry has demonstrated leadership attributes that are forceful, effective and at the same time empathetic and respectful.  In her lecture, she shares the lessons gleaned from both her tenure as the Executive Director of GLAAD, and during the preceding fourteen years as a cable television executive with positions in strategic planning and new business development.
Media and its Impact on Changing Hearts and Minds
Historically, civil rights movements have focused on government, politics and the law to effect change.  The gay civil rights movement may have been the first to recognize and understand the power of the media to shape attitudes and opinions.   Garry shares the history and successes of this media activism, offering valuable lessons on the power of media advocacy to bring an issue to light and in so doing, change hearts and minds.

Activism: A How-To Guide
As a prominent civil rights leader with demonstrated success in effecting change, Garry speaks about what it means to be an activist, the forms activism can take and the strategies and tactics that can be employed to move people to action.
Making a Difference in Non-Profit America:
Can You Really Making A Living Doing Something You Care About?
Garry tells her own story – diving into a non-profit leadership role after a successful career as a media executive – and offers insight into non-profit work – the skills and expertise she brought with her from corporate America and the new ones she unearthed.
Bio
Garry plays a critical role as a visible media spokesperson and critic.  In 1999, Entertainment Weekly featured her on its list of the "100 Most Influential People In Entertainment."  Garry's articulate advocacy has been featured across all national news networks, with notable media appearances including NBC's "Today;" ABC's "World News Tonight;" PBS' "The NewsHour with Jim Lehrer;" CNN's "NewsNight with Aaron Brown;" CNBC's "Dennis Miller Live;" numerous appearances on CNN, CSPAN, MSNBC (including "Hardball" with Chris Matthews) and Fox News Channel (including "The O'Reilly Factor" and "Hannity & Colmes").
Her comments are frequently sought by leading newspapers, magazines and news services, including The New York Times, the Associated Press, Reuters, the Washington Post, USA Today, Time Magazine, Newsweek, The Wall Street Journal, the Los Angeles Times, Advertising Age and PR Week, among others; and her thought-provoking op-ed essays have appeared in outlets such as The New York Times and USA Today.
During her eight-year tenure at GLAAD, Garry led the organization through a series of high-profile campaigns, most notably GLAAD's highly successful public education initiative to combat and expose the defamatory rhetoric of "Dr. Laura" Schlessinger.
Garry lives in New Jersey with her partner of 27 years and their three children. Her landmark 1993 court challenge to New Jersey's second-parent adoption law made Garry the first lesbian in the state to adopt her partner's biological children.  She also blogs with and about her kids at www.whosthegrownup.com, and on her own at www.joangarry.com.  In the spirit of using her voice to advocate for change, Garry is the first and only female singing member of the New York City Gay Men's Chorus.