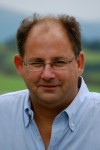 Joe Drape's acclaimed new book, Our Boys: A Perfect Season on the Plains with the Smith Center Redmen is about Smith Center, a small town in Kansas (pop. 1,931) that actually believes it takes a whole village to raise a child, and how its undefeated football team has embodied this ideal and given four generations of farmers tremendous pride. Our Boys follows the Redmen through their 2008 season as they quest to keep a 54-game winning streak alive and capture their fifth straight title.  In this exciting and inspiring true story, the Redmen ultimately complete their quest -  finishing the season undefeated, running their winning streak to 67-0 (breaking a Kansas state record for consecutive victories), and bringing home another state championship.

Prior to the 2008 season, the Smith Center Redmen graduated its twelve seniors, who never lost a high school football game and were responsible for the four consecutive state championships, the shutouts and the records. But Smith Center takes its high school motto seriously: "Tradition Never Graduates." As the 2008 season's record indicates, the motto has proven true.
Our Boys chronicles how the Smith Center schools became the center of the town's universe, how its educators, coaches and students fight to hold on to a way of life that is rich in values but dirt poor in economic opportunity.
It also focuses on an extraordinary coach named Roger Barta, who is in his 31st season, has captured seven titles and has 289 victories against 59 defeats. He is the opposite of a win-at-all-costs Coach, instead telling his players he loves them and focusing on life lessons.  "Life is basically doing the same thing everybody else does every day," Barta said. "Fulfilling lives come with doing these things with passion, working constantly on the details that no one but you really sees, and living in harmony with others."
This is a story of uplift, of how old-time values never really go out of fashion, and about how a beaten down Kansas town refuses to surrender. It is a book about the hard work and accountability a whole town invests in its most valuable asset: its children.
Bio
Joe Drape is a reporter for the New York Times. He has won numerous national awards for news and sports writing, including the 2001 Eclipse Award for outstanding achievement in horse racing writing. His book, Black Maestro: The Epic Life of an American Legend (William Morrow, 2006), a biography of African-American jockey Jimmy Winkfield, won the 2006 Castleton Lyons-Thoroughbred Times Book Award.  He is also the author of The Race for the Triple Crown (Grove Atlantic, 2000), and the screenwriter of The Place That Hits The Sun, which begins production in April of 2009.  Drape has won national awards from the Associated Press Sports Editors for breaking news about illegal agent activity in college basketball in 2001, feature writing in 2006, as well as deadline writing in 2006 and 2008. A native of Kansas City, MO, and graduate of Southern Methodist University, Drape previously worked at the Dallas Morning News and Atlanta Journal Constitution. He also was the University of Iowa's, Professional-In-Residence, 2002.