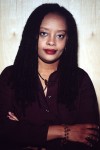 Valerie Boyd is the author of Wrapped in Rainbows: The Life of Zora Neale Hurston (Scribner 2003), the critically acclaimed biography of the­­­­ novelist and anthropologist. Her next book, Spirits in the Dark: The Untold Story of Black Women in Hollywood, will be published by Knopf.
Wrapped in Rainbows-the first biography of Zora Neale Hurston in 25 years-was published to enormous critical acclaim. It was hailed by Alice Walker as "magnificent" and "extraordinary"; by The Washington Post as "definitive"; and by the Boston Globe as "elegant and exhilarating." The Southern Book Critics Circle honored it with the 2003 Southern Book Award for best nonfiction of the year.
Program Descriptions

Don't Go Chasing Waterfalls: The Story of Black Women in Hollywood
In her eye-opening lecture slide program, Boyd takes audiences on a journey into her ongoing research for her forthcoming book, Spirits in the Dark: The Untold Story of Black Women in Hollywood, a groundbreaking study tracing the ­­­history of black women in film and television from the 1920s to the present. Accompanied by a dazzling array of slides, Boyd walks audiences through a gallery of Hollywood's most important black women players, decade by decade, from Lena Horne to Halle Berry, from Hattie McDaniel to Queen Latifah.
Chronicling the battle for inclusiveness that African-American women have waged over the years, this talk explores how numerous women-mostly as actresses, but later also as writers, directors and producers-have challenged and changed the movie capitol of the world, and how others have been devoured by it.
Their Eyes Were Watching God: The Back Story
In this in-depth discussion, Boyd shares with audiences the impetus and inspiration for Hurston's 1937 masterpiece, Their Eyes Were Watching God. Pulitzer Prize-winning novelist Alice Walker has said there is no book more important to her, and Oprah Winfrey has called the novel her favorite love story of all time. Winfrey even turned the book into a television movie starring Halle Berry. But where did this timeless novel come from? How did Hurston dream it up? It turns out that the love story of Janie and Tea Cake was inspired by the author's own rendezvous with a younger man in the 1930s. Boyd reveals details about Hurston's own Tea Cake and delves into the roots of this American classic.
Bio
Boyd is the Charlayne Hunter-Gault Distinguished Writer in Residence at the University of Georgia, where she teaches narrative nonfiction writing, as well as arts and literary journalism. An accomplished journalist and cultural critic, Boyd is the former arts editor at The Atlanta Journal-Constitution, and she has been published in numerous anthologies, magazines and newspapers.
Her articles, essays and reviews have appeared in Step Into a World: A Global Anthology of the New Black Literature, Ms. Magazine, Essence, The Washington Post, The LA Times, African American Review and other publications. She founded EightRock, a cutting-edge journal of black arts and culture, in 1990. In 1992, she co-founded HealthQuest, the first nationally distributed magazine focusing on African-American health.