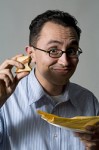 Gustavo Arellano, author of the nationally syndicated column and bestselling book, ¡Ask a Mexican!, is a child of Mexican immigrants (one illegal), who managed to become as American as John Wayne in a household where Spanish is still the primary language.  How did he accomplish this, and find himself with the multi-media platform and the ability to take on the two-headed monster of immigration and ethnic stereotyping?  Just ask him.  Gustavo has become the voice of a rapidly growing swath of Americans who are quietly (and not-so-quietly) changing the sound, looks, geography and, yes, the flavor of America, whether America likes it or not.
Program Description
In his interactive lecture, Gustavo presents an engaging and informative discussion of ethnic stereotypes and immigration, addressing the role stereotypes play in American society, and how satire can be used to deflate them. Gustavo examines immigration (legal and illegal) and the impact of Latinos, and other ethnic groups, on this country at every level: economically, socially, culturally, politically and beyond.
Gustavo truthfully answers audiences' questions about Mexicans and Latinos/Hispanics, and uses those answers as a jumping-off point for a broader conversation about issues affecting all immigrant groups, their role in the economy, and the political power of these groups once they are organized properly. Gustavo also works with companies, schools and associations to help them better connect with Latinos — focusing on the value that diversity brings to the workplace, to the classroom, and to society.
As he does in his "¡Ask a Mexican!" column, and in his most recent book, Orange County: A Personal History, Gustavo looks at America through the lens of his own multi-generational family's experience emigrating to Southern California, and that of his own childhood as he struggled with the hyphenated identity that he was handed. Finally, Gustavo also examines the unique happenstance that created the Orange County that we know today; a community that, against all odds, is truly a microcosm of our society as a whole – for better and worse.
Bio
Author of the bestselling book ¡Ask a Mexican! and the column of the same name, with a circulation of two million, and Orange County: A Personal History, Gustavo is a contributing editor to the op-ed page of the Los Angeles Times, and has appeared on "Today," "Nightline," NPR's "Talk of the Nation," and "The Colbert Report" and elsewhere.
Gustavo received the President's Award from the Los Angeles Press Club, an Impact Award from the National Hispanic Media Coalition, and a 2008 Latino Spirit Award from the California State legislature for his "exceptional vision, creativity, and work ethic." A frequent guest on liberal and conservative talk shows, where he discusses local and national issues, Gustavo was also a finalist for the 2005 PEN USA Literary Awards for Journalism for his profile on a disabled Latino veteran of the Iraq War.  He's currently working on a socio-cultural history of Mexican food in the US,  tentatively titled, Taco USA.