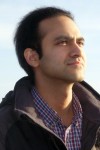 Author of Treasures of the Earth: Need, Greed and a Sustainable Future, Saleem H. Ali is professor of environmental planning and conflict resolution at the University of Vermont and adjunct professor at Brown University's Watson Institute for International Studies.  Named one of eight "Revolutionary Minds in the World" by Seed magazine for his work on using environmental factors as a means of conflict resolution, and dubbed "The Alchemist" by Forbes, for offering practical solutions to the riddle of natural resource consumption vs. conservation, Dr. Ali is a leading advocate for cross-cultural environmental pragmatism.
In his lectures, Dr. Ali uses his wide-ranging experience of traveling and researching on six continents to provide real-world examples of how communities and corporations are dealing with the growing problem of resource scarcity, and he provides solutions for reconciling this reality with the equally urgent need for environmental conservation — advocating a practical approach focusing on global development, poverty alleviation and a sustainable future.
Program Descriptions
Constructive Consumption: Greening a Poor Planet
Would the world be a better place if we curbed our desires for material goods? Basing his analysis on the examples laid out in his book, Treasures of the Earth: Need, Greed and a Sustainable Future, Dr. Ali's nuanced conclusion respects the human desire for material goods, but makes the forceful argument for a more ecologically driven economic and social system that helps to reduce global poverty.  Forbes profiled Dr. Ali's thesis in a special feature.
Eco-peace: Using Environmental Issues to Resolve Global Conflicts
Can environmental issues resolve intractable conflicts?  Dr. Ali's wide-ranging efforts at peace-building, and his professional training as a mediator at the international level, enables him to outline specific examples of how ecological factors have been able to promote peace, with good leadership, among seemingly irresolvable territorial conflicts. Dr. Ali's work in this domain has been endorsed by famed ecologist E.O. Wilson and Nobel laureate and founder of the Grameen Bank, Muhammad Yunus.
Building Peace in the Muslim World
Dr. Ali provides a personal account of his experiences of growing up in both Pakistan and the United States, and how that has provided him with insights into resolving the conflicts between Islam and the West. He also discusses his research on madrassahs (Islamic religious schools) in Pakistan where he has been trying to promote an environmental education curriculum. Dr. Ali's work on madrassahs has been profiled by the Brookings Institution.
The Science of Stuff: From the Basics of Environmental Science to a Smaller Chemical Footprint
Explaining the basics of environmental science — focusing on how materials flow through our economy and our dependence on "the elements of the earth" — Dr. Ali's enlightening and entertaining lecture takes audiences through basic chemical processes, then looks at the challenges of developing materials that can have a minimal impact on the environment while meeting societal needs.
Bio
Saleem H. Ali is Professor of Environmental Studies at the University of Vermont's Rubenstein School of Environment and Natural Resources, and on the adjunct faculty of Brown University's Watson Institute for International Studies. Author of the book Treasures of the Earth: Need, Greed and a Sustainable Future, Dr. Ali's research focuses on the causes and consequences of environmental conflicts and how ecological factors can promote peace. He is on the visiting faculty for the United Nations mandated University for Peace (Costa Rica), where he teaches a course on Indigenous Environment and Development Conflicts.  He is also the editor of the widely acclaimed volume Peace Parks: Conservation and Conflict Resolution.
Dr. Ali has also been involved in promoting environmental education in madrassahs (Islamic religious schools) and using techniques from environmental planning to study the rise of these institutions in his ethnic homeland of Pakistan.  His book, Islam and Education: Conflict and Conformity in Pakistan's Madrassahs, grew out of these experiences.  A member of the World Commission on Protected Areas and the IUCN Taskforce on Transboundary Conservation, some of his current research on environmental health perception in mining areas and social responsibility in the mining sector is supported by the Tiffany & Co. Foundation.
A professional mediator, Dr. Ali has conducted workshops on consensus-building for private and public interests, as well as peer review of research publications for the World Bank, the International Institute for Sustainable Development, The Woodrow Wilson Center, the Journal of Environmental Planning and Management, the Natural Resources Forum and Yale University Press.  Dr.  Ali received his doctorate in Environmental Planning from the Massachusetts Institute of Technology, an M.E.S. in environmental law and policy from Yale University, and his Bachelors in Chemistry from Tufts University (summa cum laude).