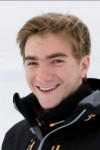 Parker Liautaud (born August 12th, 1994) is a polar explorer and climate change campaigner.  A Fellow at the Yale Climate & Energy Institute, he has undertaken three expeditions to the North Pole and one to the South Pole. In 2013, Liautaud led the Willis Resilience Expedition, a two-part journey on which he and his team crossed Antarctica from coast to coast (1900km) in a custom-built scientific support vehicle conducting research on the climate system, and then completed the fastest human-powered trek to the South Pole (565km), becoming the youngest man to walk to the pole at the time.
Through his expeditions, he has partnered with leading academic institutions, including the International Atomic Energy Agency, GNS New Zealand, and others to conduct research on the climate system. He has also worked closely with the United Nations Foundation on the communication of climate science. The Willis Resilience Expedition produced a 16-episode live show dedicated to climate change, which hosted 25 debates and discussions on the issue with leading experts from the scientific community, the private sector, NGOs, and government.
Named to Time Magazine's 2013 "30 Under 30″ list of people changing the world, Parker has been featured in over 200 different media outlets around the world, including The New York Times, The Washington Post, National Geographic, and The Guardian.  In March 2014, he was honored by The White House as a Champion of Change for engaging the next generation of conservation leaders.  Liautaud is also an ambassador for One Young World. He studies Geology & Geophysics at Yale University.