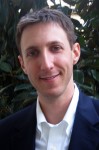 Brandon Friedman, author of The War I Always Wanted: The Illusion of Glory and the Reality of War, is the former Director of New Media at the Department of Veterans Affairs.  Previously, he was the Vice Chairman of VoteVets.org – a 100,000-member organization dedicated to getting veterans elected to public office – and the Editor of "VetVoice,"  a blog that focused on the often-awkward line between the military and politics.  Brandon draws on his personal experience to help audiences understand the challenges facing today's veterans, and he addresses the challenges facing our society as we become increasingly disconnected from the experiences of war and of these veterans.
Brandon is, himself, a prime example of how the romanticism and sterilization of war and combat stand in stark contrast to the realities of service and the difficult transition of re-integrating into the "real world." Brandon has found his voice in print, on TV and on the web, and he continues to use all means at his disposal to help veterans find their own voices, and to speak on their behalf.
Program Descriptions
Leading under Fire: Lessons from Afghanistan and Iraq
As an infantry officer in the Army's elite 101st Airborne Division, Brandon Friedman successfully led platoons in combat against hardened al Qaeda fighters in Afghanistan and against shadowy insurgents over long months in Iraq.  The lessons he learned on those battlefields are just as valuable in today's classrooms and boardrooms.  Friedman draws on his experience to explore the nuances of leadership, team cohesion and focus, the reactions of stressed people in stressful situations, and the relationship between caring for your people and completing the mission.
The War I Always Wanted: The Illusion of Glory and the Reality of War
Obsessed with war movies as a kid growing up, Brandon Friedman always envisioned being a hero one day.  But 15 years later, as a young lieutenant in the Army's famed 101st Airborne Division, he learned that real, in-your-face war was far more physically brutal and emotionally crushing than anything he'd seen on the big screen.  From the mountains of Afghanistan shortly after 9/11 to the bloody streets of Iraq, Friedman transformed from a gung-ho, eager college kid, to a somber realist who's seen both the best and worst of humanity throughout the Middle East.  Captured originally in his memoir, he now relates his war stories from both fronts-and his personal metamorphosis-to audiences.
Combat PTSD: The Long Road Home
Brandon Friedman led soldiers on numerous combat missions throughout Afghanistan and Iraq-from the chaotic Shah-e-Kot Valley to the bloody streets and alleyways of Baghdad and Tal Afar.  When it was all over, the Army sent him home with two Bronze Stars, plenty of good war stories, and a disconcerting case of post-traumatic stress disorder.  While most returning vets are reluctant to describe in detail what the aftereffects of combat are like, Friedman is brutally frank in the way he explains how war changes a person both inside and out.  From the nightmares and insomnia to the mood swings and emotional numbness, Friedman tells how PTSD is a treatable combat injury like any other.
Blogging: How New Media is Changing Old Politics
As a writer who accidentally stumbled upon political blogs before the 2004 presidential election, Brandon Friedman has become a frequent contributor to The Huffington Post and Daily Kos-the largest blogs in America.  As a political professional, he's also the Editor of VetVoice-a blog that walks the often-awkward line between the military and politics.  Along the way, he's learned how old media is giving way to new media, why that's a good thing, and how individuals and organizations can involve themselves in the process with little or no experience.
Bio
Brandon served as an infantry officer in the U.S. Army's 101st Airborne Division in Afghanistan, Pakistan, Kuwait, and Iraq.  In March 2002, he led a rifle platoon into Afghanistan's Shah-e-Kot Valley in order to engage Taliban and al Qaeda fighters as part of Operation Anaconda-a battle later written about by award-winning journalist Sean Naylor in Not a Good Day to Die. A year later, Brandon commanded a heavy weapons platoon during the invasion of Iraq.  He led troops during combat operations in Hillah, Baghdad, and Tal Afar.  Brandon eventually left active duty in 2004, after having spent the latter half of his Iraq tour as an executive officer in the northern part of the country as the insurgency intensified.  He was awarded two Bronze Stars for his service in Afghanistan and Iraq.
Brandon has been interviewed by ABC News, the Associated Press, McClatchy, Bloomberg, the UK's Press Association, Guardian, and Daily Telegraph, the Dallas Morning News, the Military Times, and other news organizations.  He has also appeared on ABC, CNN, MSNBC, and C-SPAN, as well as on numerous radio stations across the country.  Brandon's writing has been featured on a wide range of new media outlets to include the UK's Guardian Unlimited, The Huffington Post, Daily Kos, and as the Editor of VetVoice – a blog on politics and the military.
Brandon holds a B.A. in History from Louisiana State University in Shreveport and an M.P.A. in Public Policy and Administration from the University of Texas at Dallas.  He is currently a Captain in the Individual Ready Reserve.