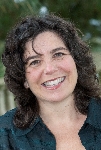 An award-winning author and journalist, Susan Freinkel writes and speaks about the intersection of science, culture, and the environment, and the difficult issues that arise from humans' seemingly ceaseless effort to control the natural world.  In her acclaimed book, Plastic: A Toxic Love Story, Freinkel explores one of the most transformative inventions of the 20th century.  Plastic built the modern world and yet now is so utterly ubiquitous that we rarely stop and give much thought to how it has shaped our lives.
Program Description
Plastic: A Toxic Love Story
Using eight familiar objects as guides, Freinkel takes audiences on an eye-opening multimedia journey tracing the rise of plastic and touching on some of its more lasting impacts on the economy, culture, health, and the environment. Focusing on some of the interlocking themes explored in the book — the rise of throwaway culture and its environmental impacts; the new kinds of health risks posed by synthetic chemicals used in plastics, and the politics of regulating them — Freinkel explores both the benefits and problems stemming from our tight embrace of synthetics.
Moreover, Freinkel addresses the problem of plastic waste and pollution and the challenges of dealing with plastics at the end of their useful lives.  And, in doing so, she poses and attempts to answer some of the tougher questions to grow out of this discussion: Is recycling the answer?  Could bioplastics be the materials of the future, and do their benefits outweigh the risks?
Whether or not we as a species can come to grips with our reliance on, and addiction to plastic is a question that will play itself out over the decades to come, but Freinkel's talk can help audiences better understand our role in perpetuating plastic's ubiquity, and by the same token, give us the tools to attempt to create a more enlightened consumer future.
The American Chestnut: A Parable of Our Time
In her award-winning book American Chestnut: The Life Death And Rebirth Of A Perfect Tree, Freinkel details one of the worst ecological disasters to ever hit North America: the near extermination of one of the country's most important forest trees.
Her lecture, based on the book, draws fascinating parallels between this early almost-catastrophe and the ecological problems of invasive species and loss of biodiversity afflicting American landscapes today.  Freinkel tells the story of the chestnuts' near demise and the decades-long effort of various scientists and amateur botanists to save and restore this beloved tree.  Once one of the most plentiful trees in East Coast forests – source of sustenance for all living beings in its range, from hares to hogs to human and a cultural icon for mountain folk of southern Appalachia — the chestnut was driven to near-extinction by a virulent newly-arrived pathogen
Freinkel discusses the notion that while the natural world is constantly evolving and seeking it's own equilibrium, we must be more vigilant stewards of our own environment.  If we don't act responsibly, then we run the risk of setting events in motion that can't easily be undone.
Bio
A science writer whose work has appeared in a variety of national publications including: Discover, Reader's Digest, Smithsonian, The New York Times, OnEarth, Health, and Real Simple, Freinkel was awarded an Alicia Patterson Fellowship in 2005, which allowed her to conduct much of the research for American Chestnut. The book won a 2008 National Outdoor Book Award.
A graduate of Wesleyan University and the Columbia University Graduate School of Journalism, Freinkel began her career as a reporter at the Wichita Eagle-Beacon in Wichita, Kansas.  Her interests run wide. She has covered subjects ranging from adoption to weight control, coyote hunts to mad cow disease, new psychiatric treatments to the quest to develop a blue rose — not to mention trees and plastic.